COMMERCIAL ROOF CLEANING
CHEMICAL ROOF CLEANING
Mid Florida's chemical roof cleaning process is manufacturer approved for all roofing surfaces. Providing image related value to each clients property is our focus. Unsightly mildew and algae covered roofs is not only damaging to the roofing material, it imparts a negative images on potential tenants and owners.
ENVIRONMENTALLY SENSITIVE MAINTENANCE PLANS
Mid Florida offers and innovative solution to roofing material maintenance.While most roof cleanings are performed every 3 to 5 years, we have introduced a more eco-sensitive plan. These plans call for maintenance cleaning every 1 1/2 years to 2 years at half the original cost. This allows Mid Florida to use solutiosn with mixture of 20% chlorine to 80% water, which is not determental to plants or the environment as a whole. This process maintains each client's roofing systems in a continual state of cleanliness providing intrinsic image related value at the same price of having it done every 4 to 5 years.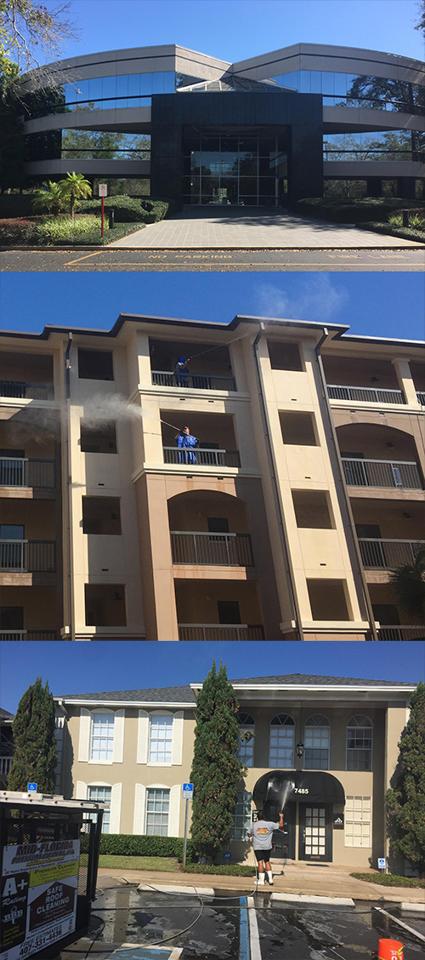 BUILDING / GROUND DIVISION
BUILDING DIVISION
Mid Florida's building cleaning division has provided central Florida's commercial real estate sector with a reliable and competitively priced resource or over 30 years.
Removing unsightly mildew staining, will prolong the life span of each building surface, create an image of cleanliness and reduce any mold intrusions into the building.
GROUND DIVISION
Mid Florida specializes in sidewalk and parking garage cleaning systems. Maintenance of ground surfaces can be critical component of a companies risk exposure management. Most surfaces can be maintained on an annual basis by pressure cleaning with surface cleaners and then chemically treating the surface to provide a measure of longevity.